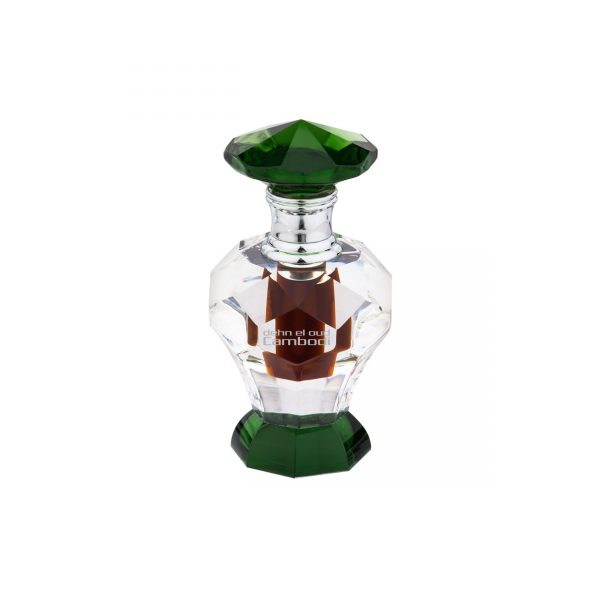 DEHN EL OUDH CAMBODI CPO 3 ML
$85.00
DEHN EL OUDH CAMBODI CPO 3 ML
Compare
Description
Dehn El Oud Cambodi
Dehn El Oud Cambodi is a layered fragrance of prized Cambodian oud oil. It is for those who desire and expect perfection and quality. This is a scent for the person for whom ordinary is not enough.
The precious quality of this sought-after Cambodian oud can be recognised as soon as you wear it. The first veil of oud is golden and earthy, rendering the finest qualities of agarwood onto your skin. The middle phase of Dehn El Oud Cambodi deepens in richness and in texture, making the oud glow like an invisible aura around you. As the final shimmering veil of oud reveals itself, it is a radiant jewel which proves to the world that you only accept the very finest.
Dehn El Oud Cambodi is a unisex concentrated perfume oil. It can be worn all year round.
Accept only the finest.
دهن العود كمبودي
دهن العود كمبودي عطر متعدد الطبقات من زيت العود الكمبودي الثمين. هو عطر من يسعى وراء الكمال ولا يتوقع إلا الأفضل ولا يقبل إلا بأعلى جودة.
تتعرف على جودة العود الكمبودي الفائقة التي يبذل الكثيرون الجهد لاقتنائه بمجرد أن تضع هذا العطر. تكشف الطبقة الأولى من العود في هذا العطر عن رائحة ذهبية تصاحبها رائحة الأرض النقية والتي تترك أرقى خصائص خشب العود على بشرتك. في القلب من هذا العطر، يزداد العود غنى ويتضح قوامه في وهج ينساب كهالة من حولك. وبينما يصل العود إلى قمته في غلالته الأخيرة، يكشف عن نفسه كجوهرة مصقولة تثبت للعالم حولك أنه لا يرضيك إلا الأفضل.
دهن العود كمبودي عطر مركّز للجنسين، مثالي على مدار العام.
لا تقبل إلا الأفضل.
Dehn al Oudh Cambodi CPO 3ml by Swiss Arabian is another great fusion of sweet and woody fragrances from its range of pure, rich and natural Oudy fragrances. This CPO has been derived from natural Cambodian Agarwood trees and offers a mesmerizing fragrance. Being all natural, this oil is alcohol-free and extremely gentle on the skin leaving you a soft, glowing and flawless skin due to the Arabian properties this oil possess. The fragrance when applied opens up with sweet, earthy, and musky fragrance that lingers all day long. Dehn al Oudh Cambodia CPO is an authentic Swiss Arabian fragrance that lingers sweet agarwood fragrance and does not nauseate your senes, the balance is just right! It comes in an exquisite aqua green colored packaging in a crystal bottle which is an ideal gifting option. Get this amazing and authenticCPO in USA offered by Insiyah Atoor.