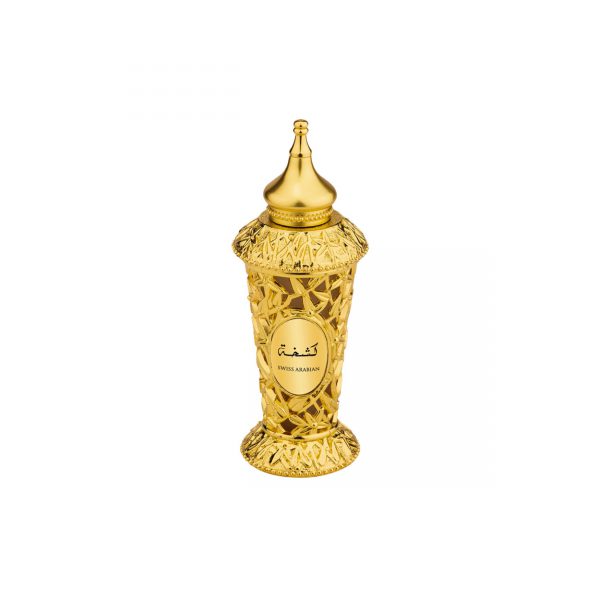 Kashkha
$66.99
Kashkha is an elegant, oriental fragrance that is meant to embody style and good living. It begins with floral spicy notes of bergamot, apple and cinnamon complemented by the spicy woody notes of agarwood, cardamom and saffron.
Compare
Description
KASHKHA
Kashkha is a fruity, spicy, oud fragrance inspired by the modern man and woman who embody style in all that they do. When they reach for Kashkha, they know that their fragrance is as stylish as they are.
Kashkha releases its notes one by one like scented bubbles of fragrance. Opening with sharp and clean fruity notes, you can sense the bergamot, crisp apple and warm cinnamon in the air around you. As this delightful beginning lifts your heart into a sense of pure contentment, the delicious fragrance gently and seamlessly fuses with the warm and spicy notes of cardamom, golden agarwood and precious saffron. The scent moves smoothly into sharp cedar, cosy amber and tender musk, leaving its stylish stamp on all who wear it.
The scent of style.
كشخة
كشخة عطر بروائح الفاكهة والتوابل والعود، مستوحى من الرجل العصري والمرأة العصرية في تجسيدهما للأناقة في كل شيء. هما يختاران عطر كشخة لأنه عطر أنيق يضاهي هذه الأناقة.
يطلق عطر كشخة أطيافه العطرية واحدًا تلو الآخر وكأنها فقاعات معطرة. يبدأ الطيف الأول بروائح الفاكهة الحادة والنقية فتشعر بنسائم البرغموت والتفاح الطازج والقرفة الدافئة وقد ملأت الهواء من حولك. بينما تترك تلك البداية الممتعة قلبك في حالة من الرضا التام، يطلق هذا العطر الآسر برقة وسلاسة أطياف التوابل الدافئة من الهيل وخشب العود الذهبي والزعفران الثمين. تتحرك الرائحة بنعومة لتكشف عن روائح الأرز الصريح، والعنبر الهادئ والمسك الرقيق ليترك هذا العطر بصمته من الأناقة على كل من يضعه.
كشخة عطر للجنسين مثالي للفصول الأكثر برودة.
عطر الأناقة.
Kashkha by Swiss Arabian marks another hit list of contemporary fragrances that is exclusively made for women who love to embody style in every way. Kashkha is an oriental perfume having a rich, vibrant and bold fragrance yet being soft and sweet at the same time. The fragrance contains a divine mixture of natural ingredients comprising Bergamot, Apple, Cinnamon, Agarwood, Cardamom, Saffron, Cedar, Amber, and Musk. The blend of spicy aroma with cardamom and saffron is tantalizing with rich agarwood fragrance, leaving a timeless and everlasting woody and musky fragrance. The attractive bejeweled case packaging is ideal for gifting. One of the famous non-alcoholic best-perfumed oil in USA