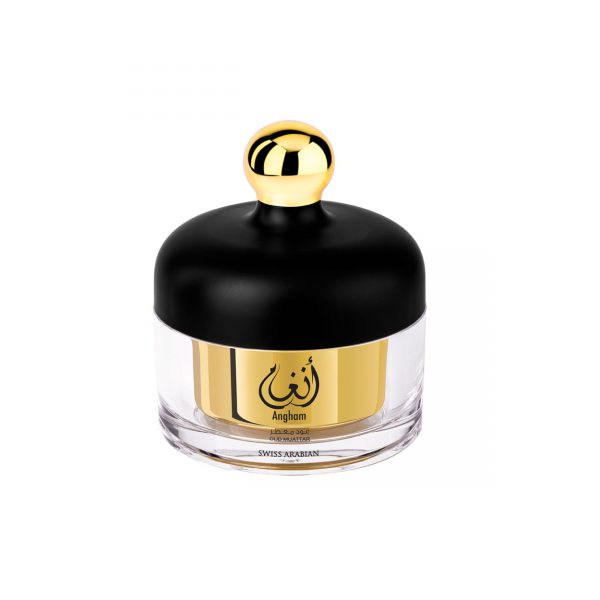 MUATTAR ANGHAM DAHABI 40 GM BAKHOOR BY SWISS ARABIAN
$72.00
Muattar Angham is a lingering contemporary fragrance which exudes a rich aroma of saffron blended with damascus rose, musk, patchouli and agarwood.
Compare
Description
MUATTAR ANGHAM
Muattar Angham opens with a mesmeric blend of luxurious rose notes merging with precious saffron strands. Rose and spice mingle into the powdery notes of citrus and aldehydes blurring softly into one another, gathering heat as they reveal the peppery spices of geranium and nutmeg. A breeze of heady Damascene rose and sober heliotrope adds a touch of elegance in the air around you. The base intensifies into a leathery, earthy finish of labdanum and patchouli. Through the mists of soft musk looms a gleaming golden drop of precious oud: the final resonating note of a beautiful symphony.
A symphony of scent.
معطّر أنغام
معطر أنغام يفتتح بمزيج آسر من روائح الورد الفاخرة التي تتداخل مع الزعفران الثمين. تختلط روائح الورد والتوابل في أطياف عطر بودريه من الحمضيات والألدهيدات التي تمتزج مع بعضها البعض بنعومة، فتتصاعد حرارتها بينما تطلق روائح التوابل الفلفلية للجيرانيوم وجوزة الطيب. تضيف روائح وردة دمشق الجورية الآسرة والهليوتروب الهادئ لمسة من الفخامة في الهواء من حولك. تتركز القاعدة العطرية في خاتمة بروائح جلدية أرضية من الباتشولي وصمغ العنبر. من خلال سدم المسك الرقيقة، تظهر قطرة ذهبية من العود الثمين: الصدى الأخير لصوت معزوفة رائعة.
سيمفونية من العطر.
The Muattar Angham Dahabi is an addition to the contemporary and unique collection of Swiss Arabian. These sticks, which are made up of all natural ingredients, when burnt, oozes out a rich fragrance, which is a blend of Damascus rose, musk, patchouli, and agarwood. It creates your environment refreshing, and the rich aroma of floral spicy notes blended with sweet smell woody notes creates an alluring ambiance.
This non-alcoholic exotic concentrated perfume incense is for both men and woman. Emerging as the best alcohol-free perfume in USA.