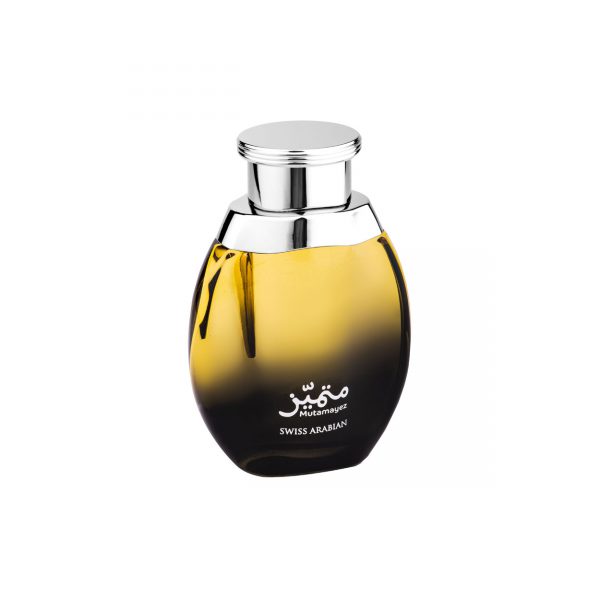 Mutamayez EDP – 100ML
$34.99
Compare
Description
MUTAMAYEZ
Mutamayez is a fragrance for the person who embodies grace, dignity and distinction.
Mutamayez opens with warm, inviting spices and the piquant green scent of the Cypress tree. Using nature's finest ingredients, Mutamayez establishes itself as a scent of quality. The heart of the scent leads you into an earthy forest glade of classic vetiver, adding texture and depth to the spices within.  With a flourish of smooth cashmere woods and a swagger of irresistible musk, Mutamayez sends a clear message: This is a person with true prestige.
Mutamayez is a unisex woody, aromatic, musky fragrance that is ideally suited to day time in the cooler seasons.
For the distinguished. For the dignified. For you.
متميّز
متميّز عطر من يجسّد الأناقة والشموخ والتميّز.
يُفتتح متميّز بروائح التوابل الجذّابة الدافئة ورائحة شجرة السرو الخضراء الحادة. لأنه مبتكر من أجود ما جادت به الطبيعة من مكوّنات، يُثبت متميّز نفسه كعطر فائق الجودة. يقودك قلب العطر إلى فضاء غابة من رائحة الفتيفير الترابية الكلاسيكية، ليضيف عمقًا وقوامًا لروائح التوابل بداخله. تتباهى أخشاب الكشمير الملساء ويتيه المسك الذي لا يُقاوم ليرسل متميّز رسالة واضحة: هذا عطر لذوي المقام الرفيع.
متميّز عطر للجنسين بروائح قوية من الأخشاب والمسك مثالي لنهار الفصول الأكثر برودة.
لأصحاب التميّز. لأصحاب الشموخ. لك أنت.
Everyone is unique in their own ways, and it's the beauty of our differences that brings us together. Personality to a man, is what scent is to a flower, irreplaceable. This warm, aromatic fragrance proves that being different is always an advantage. 
Mutamayez translates into "something special". This exclusive fragrance from Swiss Arabian was created for the man who is truly comfortable being in the limelight.
Further to the reviews of both Max Fortie and Ionut Filipeanu, the fragrance starts off with notes of Orange and Pine, before leading up to the middle notes of Clove, Cardamom, Cedarwood and Cashmir wood. The scent story ends with notes of Vetiver, Agarwood, Amber and Musk.
It is a highly concentrated perfume for men with a pleasant oriental-powdery fragrance and has a long to very long longevity with heavy to enormous sillage rating.
While it is the next closest thing to the discontinued YSL M7 (Yves Saint Laurent), Mutamayez is a standalone product and not a replica in any way.
TOP NOTES: ORANGE, PINE
MIDDLE NOTES: CLOVE, CARDAMOM, CEDARWOOD, CASHMIR WOOD
BASE NOTES: VETIVER, AGARWOOD, AMBER, MUSK